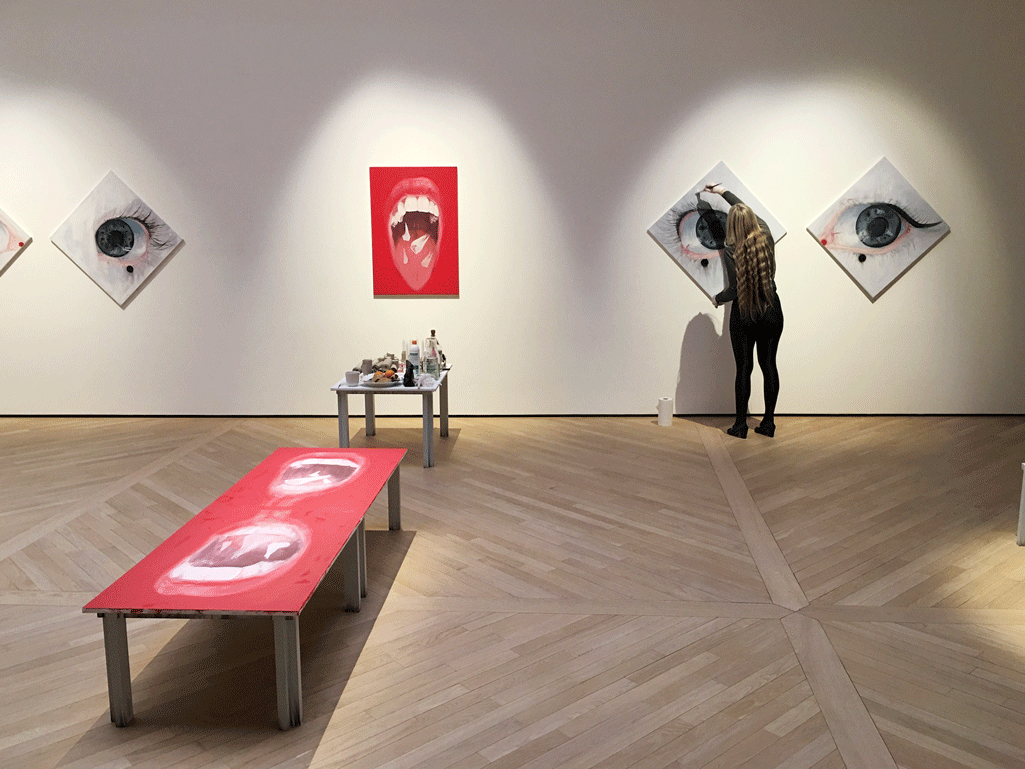 To Ylva Snöfrid, painting is something all-embracing and universal. Besides the canvases, she currently works with, tables, chairs and benches are included as paintings as well as everyday life objects. Ylva Snöfrid in PRAXIS 1: "An artwork as a living organism or vice versa, a living organism as an artwork where everything is ritualised: sleeping, eating, cleaning, cooking, painting, crafting furniture, stretching canvases, homeschooling. My art is my home." CFHILL together with the artist list five other artists, who in a similar way as Ylva Snöfrid, live with their art in their everyday life in an almost literal sense. From the Eyes of the Painter, open Saturday 12–3 PM.
Franz West, Chairs, since the 1970s.
Franz West (1947—2012) thought of chairs, tables, upholstered pieces, wardrobes, and bookcases in sculptural terms, and approached their design in accordance with his concept of sculpture, considering their physical and tactile qualities. By questioning the practicality of art and our physical and emotional response to it, West called into question the way art is experienced and defined, and accordingly suggested the possibility that furniture might be seen as sculpture and a social experience. Furniture sculptures play a central role in West's work, and are often major components of installations, used for talks at art fairs and the also occur at auctions.
Tracey Emin, My Bed 1999
The idea for My Bed was inspired by a sexual yet depressive phase in the artist Tracey Emin's (born 1963) life when she had remained in bed for several days without eating or drinking anything but alcohol. When she looked at the vile, repulsive mess that had accumulated in her room, she suddenly realized what she had created. Emin ardently defended My Bed against critics who treated it as a farce and claimed that anyone could exhibit an unmade bed. To these claims the artist retorted. "Well, they didn't, did they? No one had ever done that before." My Bed was bought by Charles Saatchi for £150,000. IN 2014 it was sold by Christie's for a little over £2.5 million.
Georgia O'Keeffe
She (1887—1986) was best known for her paintings of enlarged flowers, New York skyscrapers, and New Mexico landscapes and she has been recognized as the "Mother of American modernism". Georgia O'Keeffe and the legendary photographer Alfred Stieglitz, her husband, lived together in New York until 1929, when O'Keeffe began spending part of the year in the Southwest, which served as inspiration for her paintings of New Mexico landscapes and images of animal skulls. After Stieglitz's death, she lived permanently in New Mexico at Georgia O'Keeffe Home and Studio in Abiquiú, until the last years of her life. After her death, the Georgia O'Keeffe Museum was established in Santa Fe. A visit to the O'Keeffe Museum offers insight not only into the artist's paintings, but also her creative process and the light and landscape that inspired her.
Donald Judd
In his later years, the minimal artist Donald Judd (1928–1994) worked with furniture, design, and architecture. He was careful to distinguish his design practice from his artwork, writing in 1993:
"The intent of art is different from that of the latter, which must be functional. If a chair or a building is not functional, if it appears to be only art, it is ridiculous. The art of a chair is not its resemblance to art, but is partly its reasonableness, usefulness and scale as a chair... A work of art exists as itself; a chair exists as a chair itself."
The first furniture was designed in 1973, when he moved from New York to Marfa. His designs included chairs, beds, shelves, desks and tables. In 1984, Judd commissioned Lehni AG, in Dübendorf, Switzerland to produce his furniture designs in sheet metal, in finishes of monochrome colored powder coat based on the RAL colour standard, clear anodized aluminium, or solid copper.
Louise Bourgeois
Architecture and memory are important components of Louise Bourgeois's (1911—2010) work. In numerous interviews, Louise describes architecture as a visual expression of memory, or memory as a type of architecture. The memory which is featured in much of her work is an invented memory - about the death or exorcism of her father. The imagined memory is interwoven with her real memories including living across from a slaughterhouse and her father's affair. To Louise her father represented injury and war, aggrandizement of himself and belittlement of others and most importantly a man who represented betrayal.